24/7 Emergency Services
Since 1954, Susquehanna Township Emergency Medical Services (STEMS) has been providing prompt and professional emergency care to thousands of patients. In 2011 STEMS, began providing Advanced Life Support to our residents through our own Paramedics. STEMS has continued to improve out patient care through technologically innovation and continuing education such as:
Physio-Control Lifepak 15's with transmission capabilities

Mobile Data Terminals in all Units
Bedside charting and ePCR completion through tablets
Digital Dispatch and tracking through GPS technology
Transmission of Clinical data while En-route to hospital
EZ-IO Drug and Rapid Fluid Administration
Our Core Competencies
Providing prompt, reliable response to emergency dispatches
Providing for the recruitment, retention and training of sufficient employees and/or volunteers to accomplish our mission
Providing reliable, courteous medically necessary non-emergency transportation for the Central Pennsylvania area
Providing for training to support the mission of other emergency response providers in our response area
Providing for training in basic emergency response techniques to facilities businesses and personnel in our response zone to support their mission of providing care in our community
Providing for basic emergency response training to members of the public through community groups and associations
To enable us to provide these services we will seek collaborative agreements with colleagues, governments, individuals and associations as appropriate.
Our Emergency Fleet
STEMS has seven licensed Ambulances available for Emergency Response, and has recently added two ALS Squads (Paramedic) to our fleet of emergency vehicles. In addition to our Emergency fleet, STEMS also has two fully equipped Wheelchair Vans ready for our Non-emergency customers.
Medic 9-20 (2017 Ford Police Explorer)                         Medic 9-21 (2015 Ford Police Explorer)

Ambulance 9-H (Coming Soon!)                                            Ambulance 9-G (2017 Ford, Medix)
Ambulance 9-F (2014 Ford, Medix)                                        Ambulance 9-E (2014 Ford, Medix)

Ambulance 9-C (2010 Ford, Marque)                                    Ambulance 9-D (2011 Ford, Horton)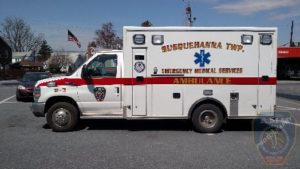 Ambulance 9-A (2010 Ford, TK)                                             Ambulance 9-B (2010 Ford, TK)